GBI director commends native investigators, attorneys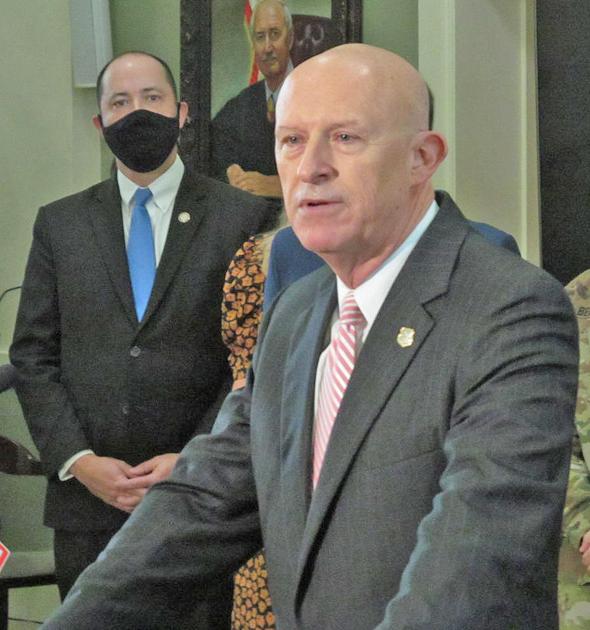 Georgia Bureau of Investigation Director Vic Reynolds recently commended Spalding County Sheriff's Office and the Griffin Judicial Circuit District Attorney's Office personnel for their roles in a massive gang investigation that resulted in almost 50 indictments.
In letters sent in December, Reynolds commended Spalding County Sheriff's Office Investigators Colt Tolen and Sheldon Mayfield and Griffin Judicial Circuit Assistant District Attorney Ashton Fallin and Investigators Saul Alter and Stan Phillips.
The SCSO and District Attorney's Office helped the GBI in an investigation into the Rollin' 20s Neighborhood Bloods.
"It's not every day that you get letters like these from the Director of the GBI," Spalding County Sheriff Darrell Dix said on the SCSO Facebook page last week. "Thank you to Investigators Sheldon Mayfield and Colt Tolen for your hard work. You are appreciated."
"I am so lucky to have such warriors on my team," DA Marie Broder said. "It is said the mark of a good leader is the team that works for her. My team is simply the best."
In Reynolds' commendation letters, he said Derrick Lavar Ferguson (aka Shady Dove) was arrested in July 2019 on drug and weapons charges and "agents quickly learned that Ferguson was the top Rollin' 20s Neighborhood leader in the state."
According to Reynolds, the gang was engaging in multiple crimes including (but not limited to) murder, robbery, drug trafficking, Georgia Department of Corrections contraband smuggling, and fraud.
It was also found that the gang established business fronts for business laundering, status and the appearance of legitimacy, Reynolds said, including the rap label MPR (aka Money Power Respect).
"Investigators doggedly pursued a circuitous path from Ferguson to one of NHB founding members and recruiters OG Ronald Chatman in Los Angeles, California, where he was ultimately captured," Reynolds wrote.
In an October press conference at the Upson County Courthouse, the GBI, along with other agencies, announced 46 gang-related indictments.
The charges included 92 counts of Racketeer Influenced and Corrupt Organizations Act, 59 counts of Violations of the Georgia Street Gang Terrorism and Prevention Act, four counts of felony murder, 24 counts of aggravated assault, four counts of kidnapping, four counts of battery, four counts of conspiracy to commit armed robbery, three counts of trafficking methamphetamine, three counts of trafficking heroin, five counts of possession of a firearm during the commission of a felony, three counts of possession with intent to distribute marijuana, five counts of felon in possession of a firearm, two counts of financial transaction card fraud, one count of conspiracy to commit financial transaction card fraud, and two counts of tampering with evidence.
The following agencies helped with the investigation — Fayette County Sheriff's Office, Fayetteville Police Department, Georgia Department of Community Supervision, Georgia Department of Corrections, Georgia National Guard's Counter Drug Unit, Griffin Police Department, Homeland Security Investigations-Atlanta, Spalding County Sheriff's Office, Thomaston Police Department, U.S. Postal Inspection Service-Atlanta Division, Upson County Sheriff's Office, and Upson County District Attorney's Office.