Lawyers
With regards to marine salvage, finders keepers doesn't apply: lawyer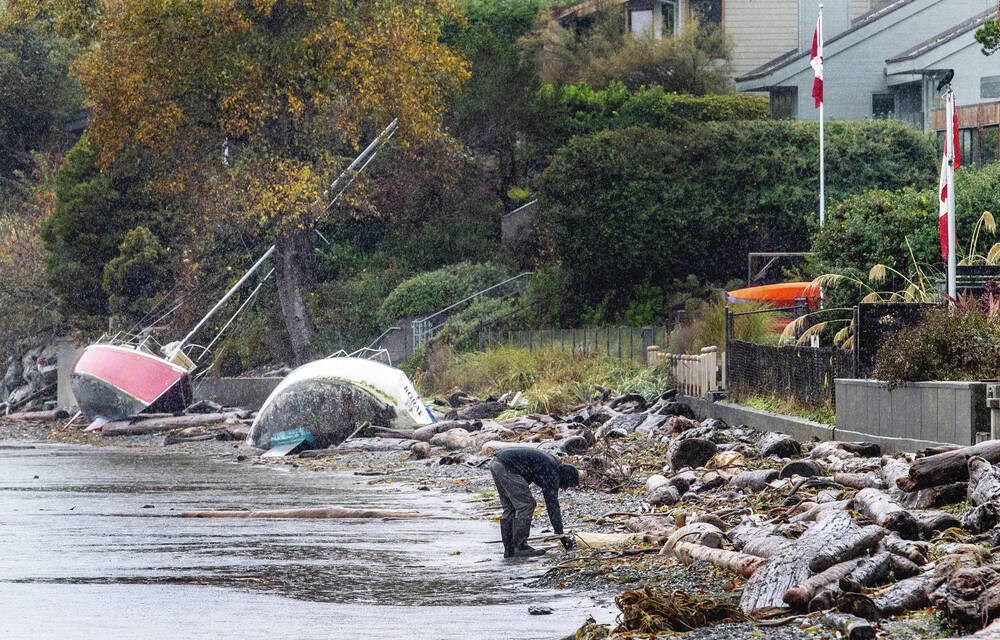 A beach cleanup has turned into a lesson on marine salvage rights for a conservation group trying to pick up debris after two pleasure vessels ran aground at Cadboro Bay beach on Monday.
A beach cleanup has turned into a lesson on marine salvage rights for a conservation group trying to pick up debris after two pleasure vessels ran aground at Cadboro Bay beach on Monday.
When it learned that the boats had washed up, the Peninsula Streams Society organized the cleanup on Tuesday, attracting volunteers to pick up debris — including environmentally harmful items — from the beach around the boats.
But they were taken aback when a member of the public contacted the Times Colonist to say that items of value, including an outboard motor and air-tight stove, had been removed from one of the boats.
Mike Wright, owner of Coral, one of the shipwrecked boats, said the Peninsula Streams Society crew was helping, not looting.
"The looting had taken place before they showed up. When I got down there, the guys had all the stuff they had recovered off the beach in a pile. I was able to salvage my Coleman stove," said Wright, who purchased his 25-foot sailboat only four months ago. "I lost my books, my guitar and other personal items. My heart sank when I saw her on her side."
He did lose his outboard motor, solar panels and stove, but he believes the thefts occurred a day earlier, when neighbours alerted him about people ransacking his boat.
Had the storm not come up when it did, Wright said, he would have taken the boat as scheduled to a safe moorage on a dock in Brentwood Bay this weekend. Unfortunately, work took him out of town last week and he was unable to make the move any sooner.
During the cleanup, the Peninsula Streams Society only recovered flotsam and jetsam scattered about the beach, and never boarded a boat to remove items of value, said Kyle Armstrong, restoration co-ordinator with the group.
"We only recovered items that had been washed off either boat. Anything secured on the boats, such as propane tanks, we did not touch," he said.
"We did find an empty suit­case, which we used as a container to pack up all the beer cans we found."
The only item that a volunteer took home was a life vest, which was given to him by Wright as a token of thanks, said Armstrong. The two tonnes of debris the six-man team collected were later taken to the landfill.
Contrary to what some people believe, those who take items off what appears to be a wreck don't have ownership rights, said Darren Williams, a lawyer knowledgeable on marine law. The law of salvage is based on federal legislation — the Canada Shipping Act — international convention and common law.
"Anybody finding a wreck should note the vessel's registration number and inform the Receiver of Wrecks," said Williams, principal at the law firm League and Williams. "There is a 24-hour hotline to call."
The Receiver of Wrecks is an office of the Canadian Coast Guard under the Department of Fisheries and Oceans, and functions much like a marine lost-and-found. The job of the office is to locate the owner of the vessel.
Failure to do so could result in a charge of trespass, plundering or interfering with the Receiver of Wrecks.
Anyone who suspects there are hazardous materials or a threat of potential pollution should immediately contact the Canadian Coast Guard, which will safely remove the materials, he said.
"If you choose to remove hazardous materials yourself, you then assume all risks of injury — to yourself or the environment," said Williams. "You put yourself in jeopardy if you make the situation worse."
While in this instance, the boats were recently shipwrecked, the same advice applies to vessels that have been aground for months and appear to be abandoned.
"Sometimes a boat has been reported to the Receiver of Wrecks, but it can take them months to find the owner," said Williams, a member of the Canadian Maritime Law Association. "It is not available for salvage until the owner waives his right."
Coral was Wright's first boat. He said her demise taught him valuable lessons on checking his equipment and the importance of secure moorage.
He plans to purchase another, perhaps larger, boat to replace her to complete his dream of sailing around the Gulf Islands and documenting his adventures. He said he has been in touch with the coast guard on the steps he has to take to extract his boat off the beach.
"I'll clean up as much as I can."
parrais@timescolonist.com